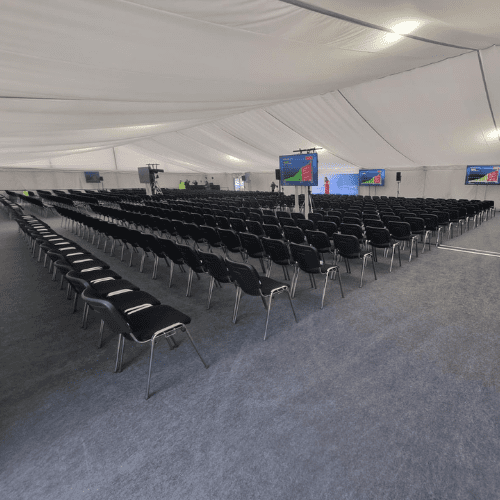 Hard sided marquee
It's been over a decade since TL Marquee Hire proudly erected our first marquee for this well known retail giant. Since then, our relationship has blossomed to become a trusted partnership. So when the call came in for some short lead time support while maintenance was being undertaken at their HQ, the TL machine jumped into action! The brief was complex. Our client needed room to host 1000 members of staff. It needed to be a premium marquee that had a semi permanent feel to it. It was also vital that the hard sided marquee was situated in exactly the right place so as not to impact day to day operations while it was being installed. The requirement presented a few considerations for us to get our teeth into. Firstly, the size of the project, which needed delivering in a relatively short time frame. Additionally, the marquee install was scheduled for a chilly and damp two week period in March.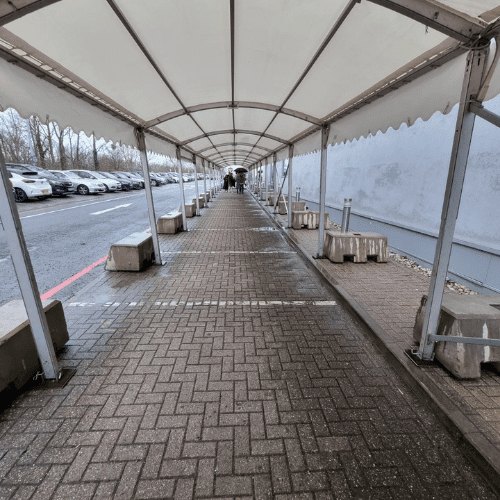 The challenges
Finally (and probably the trickiest aspect!) some of our required stock was being used for other events. We love a challenge, so quickly got to work on the solutions. Our team surveyed the site thoroughly, to mitigate any potential issues upon installation. We immediately invested in some additional cassette flooring, which ensured the ground was solid underfoot and levelled 1 meter off of the ground using our floorstack levelling system. Additionally it ensured we had enough stock to fulfil all contractual obligations. The structure was fitted with a ramp for ease of access and aluminium French doors to keep the heat in. We also project managed the installation of ancillary services such as heating and audio visual requirements. The final solution was a 20 x 45 meter hard sided marquee using our ABS solid wall and glass panelling. It was fitted with premium white flat lining and a solid wooden floor.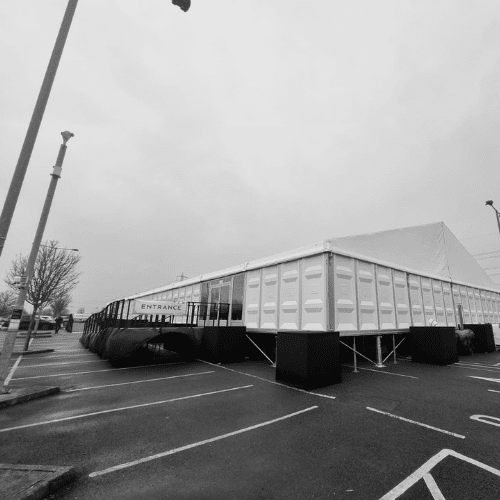 A premium solution
We also erected an 84 meter walk way leading to the main structure, to help protect against the elements. This was to meet the brief of our clients director who was to address 1000 of his staff within the structure, to thank them for their hard work and present the company's figures. The event was such a success that it has now planned as a twice yearly fixture. Our client had this to say, following a successful completion of the project.
"I currently work for a large retail company and we have used TL Marquee Hire for a number of years. They are a fantastic company to work with and nothing is ever too much trouble for them. They go above and beyond what is expected from start to finish. Very quick to adapt to multiple requests no matter how crazy an idea is. I look forward to continually working with the company and their team."
Follow us on Instagram to view more projects like this one!